Your Safety Around Power Lines
Your co-operation is needed to ensure that the design and construction precautions taken for your safety by Nova Energy are effective in operation:
Treat all powerlines as live at all times
Always report any unsafe activity you see to Nova Energy on 0800 668 236
Never climb power poles or other structures
Do not attempt to enter a substation or switchyard
Do not touch or go anywhere near a fallen wire (conductor)
Do not light external fires ("burn offs") under or within 500 metres of lines without first discussing it with Nova Energy.
Do not fly drones, kites, or model aeroplanes near lines
Use extreme care when handling long metal objects such as pipes or ladders near lines
Use extreme care when running out or straining fence wires near lines. Always check for power lines where fence wires may be pulled under tension, such as across gullies
Use extreme care when moving or using boats with masts, cranes, diggers, scaffolding, work platforms or buckets (cherry pickers) or any other tall objects near power lines Such items must be kept at least four metres away from the conductors
Do not sail or launch boats with tall masts under lines
Do not connect metallic objects like fence wires or clothes lines to transmission structures
Do not build, excavate, dump or stockpile fill, or plant trees close to a power line 
Remember! Electricity can jump from power line wires (conductors). You do not have to touch them to be electrocuted - just being close can be dangerous! Always keep yourself or anything you are touching at least four metres away from the lines
Pilots - always be aware of power lines and other overhead wires when using helicopters, aerial topdressing aircraft and microlights
If you are working near power lines – for example farming, building, operating machinery - you are required by health and safety legislation to control the risks and ensure your own safety and that of others
Your Trees and Power Lines
Trees must be kept clear of power lines.
Trees close to power lines can be a danger to the public and can cause interruptions to your power supply, especially during high winds and storms. Branches that come into contact with lines can produce power outages and fires. If the line breaks, the fallen line can electrocute people or livestock. Serious injury and even death can occur if a person comes into contact with power lines while climbing or pruning trees near the lines.
Regulations to keep people and lines safe
The Electricity (Hazards from Trees) Regulations 2003 are intended to keep trees a safe distance from power lines. The following information provides an overview of how the regulations work and what they mean for you. Specific information will be provided to tree owners prior to your Network Company (if you are unsure of your Network Company, check the Electricity Networks Association website for more information) undertaking any work under the regulations.
Tree growth limit zones
Trees must be cut or trimmed to the following distances from any line conductor. For spans up to 150m, the tree clearance distance (Growth Limit Zone) in any direction from any point on all conductors is 4 metres. If a tree is within the above distance it must be trimmed back to the Notice Zone, which is 1 metre beyond the Growth Limit Zone.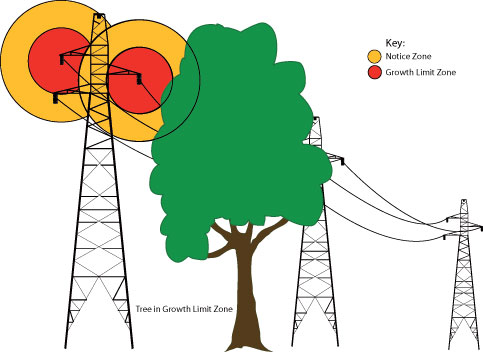 Distances for spans more than 150 metres in length can be calculated using the following chart:
| Length of span (metres) | Vertical distance from a horizontal plane drawn from any point on conductor (metres) | Horizontal distance from a vertical plane drawn from any point on conductor (metres) |
| --- | --- | --- |
| 150 to 300 | 4 | D1 = 4, D2 = 8 |
| 301 to 500 | 4 | D1 = 7.5, D2 = 15 |
| 501 to 700 | 4 | D1 = 15, D2 = 30 |
| Greater than or equal to 701 | 4 | D1 = 25, D2 = 50 |
D1 = distance for the 15% of each span at either end of the span.
D2 = distance for the centre 70% of each span.
Please contact us if you are in doubt.
Owner's responsibility
The tree owner is always responsible for keeping their trees outside the Growth Limit Zone. However, in some cases (normally where the tree is self-grown), you can declare 'no interest' in the tree and your Network Company will take responsibility for keeping the tree clear. In such instances your Network Company will probably opt to fell the tree to save further maintenance costs.
Hazard Notice
To prevent trees growing too close to power lines,your Network Company may issue a Hazard Warning Notice to a tree owner if a tree is encroaching the Notice Zone.
Cut or Trim Notice
Your Network Company will issue a Cut or Trim Notice to the tree owner if they become aware that a tree is encroaching the Growth Limit Zone, and they will require the tree owner to trim the tree.
A Cut or Trim Notice will detail the action the tree owner must take. This will include time limits and the need to advise your Network Company before the tree is cut or trimmed. Your Network Company may need to disconnect power around the tree if live line trimming is not possible, or take other steps to protect the supply of power and ensure safety.
Following the initial Cut or Trim Notice being issued to a tree owner under the regulations, the line owner must meet the cost of the first cut or trim unless subject to a prior agreement. In those circumstances, the line owner may perform the cut itself, provided any application for dispensation/arbitration has been settled and permission to enter the land has been obtained.
First trim under the Regulations
Trees inside the growth limit zone must be trimmed. In certain situations, the first cut or trim of trees in the Growth Limit Zone will be undertaken and paid for by the electricity Network Company.
No interest tree notice
An owner or occupier of any land on which a tree is growing adjacent to a line before the commencement of the regulations may give a 'no interest' tree notice to a line owner. A 'no interest' tree notice may be given whether or not the owner or occupier has received a Hazard Warning Notice or a Cut or Trim Notice.
The purpose of a 'no interest' tree notice is to notify your Network Company that the owner or occupier of the land on which the tree is growing has no interest in the tree. Your Network Company will then be entitled to have the tree removed or trimmed following the gaining of permission to enter the land on which the tree is growing.
Where a tree is owned by a local authority and is subject to pruning restrictions in a district plan, the 'no interest' notice is of no effect.
The regulations will not affect the maintenance of power lines crossing land managed by the Department of Conservation, including reserves, national parks and conservation areas, or reserves managed by local authorities or other administering bodies. This preserves the existing practice whereby line owners are responsible for trimming work, with an appropriate permit from the administering body.
Dispensation
A tree owner who receives a Hazard Warning Notice or a Cut or Trim Notice may apply to the electricity Network Company for a dispensation from cutting or trimming that tree so that it does not encroach the Notice Zone. A dispensation permits the tree owner to allow the tree to encroach the Notice Zone, but not the Growth Limit Zone.
An application for a dispensation may be made at any time, but if the tree owner is given a Cut or Trim Notice, the application must be made no later than 5 working days after the date on which the tree owner received that notice. The application for a dispensation must be in writing.
If a line owner receives an application for a dispensation, the line owner must decide whether to grant the dispensation and if so, its duration and any caveats attached. A dispensation must be granted if the line owner is satisfied that the tree is unlikely to come into contact with a line.
Arbitration
The Minister may appoint suitable persons to act as arbitrators for the purposes of these regulations. Arbitrators determine disputes between tree owners and line owners concerning the decision to grant, and the conditions of, an application for dispensation. The regulations prescribe the orders that the arbitrator may make and the time limits for applying to an arbitrator.
Penalties for not complying
Failing to comply with the requirements of a Cut or Trim Notice is an offence. It is also an offence to fail to advise the Network Owner in advance of when the work on the tree will be undertaken and its location. Tree owners can be fined up to $10,000 for those offences, plus up to $500 a day for a continuing offence. They can also be liable for the damage caused if a tree damages a power line.
Safety matters
The tree owner is responsible for keeping their trees away from lines, however, for safety reasons, only qualified tree trimmers should trim any tree near power lines. Serious injury or death can occur if a person, or the equipment being used by a person, comes into contact with electricity lines. For safety's sake, you must use a qualified professional.
Common Law
The Electricity (Hazard from Trees)Regulations 2003 only apply to trees within the Notice Zone. The Network Owner reserves its ability to seek compensation from any tree owner who has a tree outside this zone that falls into the lines and causes damage.
Further Information
For more information please view the New Zealand Electrical Code of Practice for Electrical safety distances. This can be found on the Energy Safety website.
If you wish to contact us phone 0800 668 211.
We are here to help
Should any issues arise Nova Energy has a comprehensive complaints investigation process