From March 2022 we're commencing a smart natural gas meter trial with a number of our residential customers.
Once we have completed the trial we plan to roll them out wider so that more households and businesses can enjoy the benefits these new meters will offer.  
Common questions and answers
How does a smart meter work and what are the benefits?
Smart meters are a modern version of an analogue meter, but they go the extra step in helping you to keep track of how much energy you are consuming at timely intervals.
The meter communicates all your reads through the mobile phone network in the same way you send a text message.
The main benefit of having a smart meter is it provides you with an accurate bill and removes the need for a meter reader to visit your property.  Another key benefit is that it can provide information about when you use your energy, putting you in better control of your energy management.
Please note: During the initial part of the trial, we will continue to visit your property to read the new natural gas smart meter for a short period. This is to allow us to assess the meter data we are receiving.
Will gas be turned off when my meter is installed?
Yes.  Whenever maintenance is carried out on any natural gas connection a registered gas fitter is required to turn the gas off and it must remain off until they can confirm with the customer that any appliances with pilot lights have been relit for safety reasons. While most modern appliances do not have pilot lights, the gas fitter will not be aware of which appliances are installed inside the house so must take this step.
If you are not present when the upgrade takes place, the contractor will leave a calling card and attempt to text you when they have completed the work at your site.
Both the Calling Card and Text will provide an 0800 number to call to reconnect your supply and the contractor will return to site within 2 hours between 8am and 7pm or 4 hours outside these times to turn your gas supply back on.
How long will the upgrade take?
The work to upgrade a standard natural gas meter to a new smart gas meter takes approximately one hour to complete.
How do I read my new meter?
New gas smart meters are powered by a long-life battery that will last approximately 10 years. To conserve battery power the meter display will typically be blank.  This is quite normal and not a fault with the meter.
To read your gas meter you need to press the button labelled "OK" for 2 seconds. The screen will light up and the current reading for the meter will be displayed for a short period. Simply press the button to display the reading again. See the picture of the meter with the button highlighted.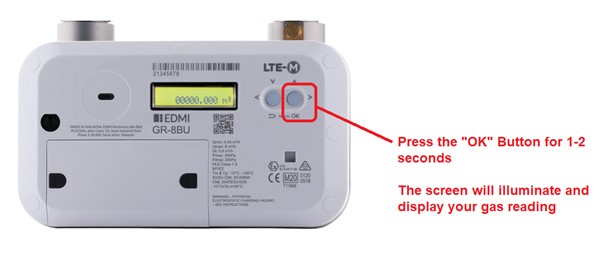 How can I request a new smart meter?
Existing Nova natural gas customers in Auckland, Hamilton, Tauranga, and Wellington who would like to be involved in the trial can contact us by email or by calling us on 0800 668 236. 
What if there are problems with my natural gas supply?
Call us on 0800 668 236 to log a fault. We will arrange for someone to call and help resolve your issue.
How can I be confident that the meters are recording my gas use accurately?
The meters being used in the trial have passed all the requirements of the Gas Industry Company for natural gas measurement systems and comply with New Zealand Standard 5259 for Gas Measurement.
During the trial we will be testing the installation and remote reading functions, but we are confident that the meters themselves are accurate and reliable. Details on the specific meter can be found here .